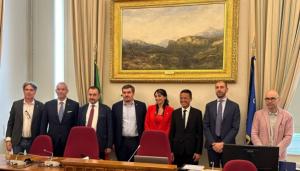 Omar Harfouch Speaks To Parliamentarians in Italy.
Widespread corruption, a refugee crisis and the lack of an effective government are causing hardship in Lebanon, Italian Foreign Relations Committee told.
Intimidation will not stop us because I am fighting for my daughter and for the new generation in Lebanon."
— Omar Harfouch
ROME, ITALY, July 13, 2023/EINPresswire.com/ — Prominent Lebanese politician Omar Harfouch addressed the Italian parliamentary Foreign Relations committee in Rome yesterday (July 12 2023). The two-hour meeting was at the committee's invitation and followed an official delegation from the parliament which visited Harfouch at his home in Paris two weeks ago.
The hearing in Rome focussed on the acute situation facing ordinary people in Lebanon: rampant inflation, rapidly deteriorating living conditions, increasing oppression of minorities and widespread abuses of human rights. A significant factor is the crisis resulting from the 1.5 million refugees who have fled into Lebanon from Syria during the current civil war. This is putting an unbearable strain on Lebanese infrastructure and resources such that poverty is increasing uncontrollably.
According to the World Bank, Lebanon "is going through one of the worst economic crises in the world since 1850". The Lebanese pound has lost 95% of its value since late 2019 and inflation is reaching unimaginable heights.
Whereas billions of euros have poured into Lebanon from well-meaning international actors such as the European Union to help mitigate this situation, widespread corruption amongst the political and civil elite has siphoned off much of this financial aid for themselves. Harfouch has been highlighting this large-scale fraud for several years by not only by speaking out publicly, but also by taking legal action against some of the perpetrators, which Harfouch claims includes top politicians.
Perhaps unsurprisingly, Omar Harfouch is very much on the radar of the Lebanese ruling establishment. He told the committee in Rome that he has been banned from returning to his own country by a diktat of a military court which, with the collaboration of the acting prime minister Najib Mikati, accused him of treason. The excuse given was that by simply attending an open meeting in the European Parliament last March about stopping the funding of terrorism, whose international panel of experts included Israeli NGOs the International Legal Forum and NGO Monitor, Harfouch had "collaborated" with an enemy state. "Intimidation will not stop us because I am fighting for my daughter and for the new generation in Lebanon" he said.
Harfouch had attended the conference in Brussels since he is the founder of Lebanese political party 'The Third Republic' which has combatting terrorism as one its aims, so he wanted to alert the MEPs present to the reality that much EU funding to Lebanon finds its way into the hands of terrorist organisations both there and subsequently in Europe. The EU needs to know where its money is going, he said at the time, and also to be aware of the scale of corruption and financial misfeasance taking place in his country of birth.
Last month Harfouch was back in Brussels to press home that message, speaking this time as a panellist during a symposium hosted by Lukas Mandl MEP (EPP) called 'What future for Lebanon? – the role of the European Union in promoting human rights in Lebanon'. Mount Lebanon Judge Ghada Aoun, who is currently facing persecution due to her fight against corrupt judges in the country, was one of the panellists. She emphasised that true justice is essential for the existence of the Lebanese state. Aoun considered the treatment of Harfouch as the strongest evidence of corruption within the judicial system.
Harfouch referred to Judge Aoun during his meeting in Rome. He explained that she had been in the process of investigating alleged money-laundering by bank officials and politicians, including acting prime minister Mikati, when she was summarily suspended, a decision she is challenging. She and others who try to fight corruption, including whistle-blowers, he claimed, are being persecuted and threatened.
The Italian parliamentarians were told by Harfouch that the dire situation in Lebanon was unsustainable: a political reset is necessary. He said that this is why he established his new political party, to build a future on the basis that the state must be secular and needs to abandon its 'confessional' constitution whereby certain official roles can only be undertake by members of specific religious communities. Corruption must be eliminated, perhaps by a new genuinely independent national body with international oversight.
In response to a question from Naike Gruppioni MP asking him what he would do to save Lebanon if he was prime minister, Harfouch said that before then he would continue to share his message of concern and hope in other parliaments in Europe, since whereas Lebanon's nightmare situation can only properly be addressed by Lebanon itself, European countries need to stop making it so easy for corruption and hence poverty to flourish.
There is a role for European politicians here, since if Harfouch is prevented on a pretext from ever returning to his country of birth, the reformist programme he wants to champion will remain a mere aspiration, to the detriment of the millions of suffering people in Lebanon, and the benefit of the enriched few.
Meanwhile there appears to be a growing number of politicians in Europe who view Harfouch as the best hope for a bright future for Lebanon.
Stephanie Pantoja Juárez, Press Officer
IMPAC aisbl
email us here
Article originally published on www.einpresswire.com as "only radical reform and fighting corruption can save Lebanon"