Easiest and Fastest Way to Scale Home Service Companies
25000 virtual admin assistants working world wide – we provide the top 2%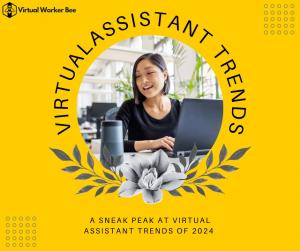 Virtual Assistant Trends
Virtual Worker Bee empowers home service companies with virtual assistants, while Adam Nager's book guides entrepreneurs in maximizing their productivity.
ORLANDO, FLORIDA, UNITED STATES, July 21, 2023/EINPresswire.com/ — Virtual Worker Bee Empowers Home Service Companies with Top-tier Virtual Support Agents and Extensive CRM Expertise
Virtual Worker Bee, a leading provider of virtual support agents for the home services industry, is revolutionizing the way entrepreneurs scale their businesses while reclaiming precious time for their personal pursuits. By offering vetted top-tier virtual assistants to handle customer support, scheduling, and marketing needs, Virtual Worker Bee enables home service companies to achieve new heights of success and efficiency.
Virtual Worker Bee is proud to announce its unwavering commitment to serving the home services industry with highly skilled and experienced virtual support team members. With a deep understanding of the unique challenges faced by home service providers, Virtual Worker Bee ensures that its virtual assistants possess the expertise necessary to deliver exceptional results.
One key aspect that sets Virtual Worker Bee apart is its focus on CRM (Customer Relationship Management) solutions. Recognizing the critical role that CRM systems play in the success of home service companies, Virtual Worker Bee's virtual support agents have extensive experience with the top 5 CRM and scheduling solutions for the home services industry, including ServiceTitan, ServiceFusion, HouseCallPro, and other industry-leading platforms. This expertise enables them to seamlessly integrate into existing workflows and maximize the benefits of these powerful tools.
"Home service companies rely heavily on CRM and scheduling solutions to manage their operations efficiently. By providing virtual support agents with in-depth knowledge of these platforms, we ensure that our clients can leverage the full potential of support team members utilizing the tools their business is already familiar with to streamline their processes and enhance customer experiences," says Adam Nager, founder of Virtual Worker Bee.
Home service companies face increasing demands as their businesses grow. Entrepreneurs often find themselves stretched thin, attempting to balance various responsibilities while striving to maintain the quality of their services. Virtual Worker Bee steps in to alleviate these challenges by offering dedicated virtual assistants who specialize in managing customer interactions, optimizing schedules, and executing targeted marketing strategies.
By leveraging the expertise and skills of virtual assistants, home service companies can streamline their operations, improve customer experiences, and accelerate their growth. Virtual Worker Bee's virtual support agents are carefully vetted to ensure they possess the necessary qualifications, experience, and dedication to deliver exceptional results. This rigorous selection process guarantees that entrepreneurs are matched with top-tier professionals who possess the skills and work ethic needed to excel in their roles.
In addition to providing virtual support agents, Virtual Worker Bee's founder, Adam Nager, shares his knowledge and insights in his recently published book, "Virtual Mastery: How Virtual Assistants Propel Home Service Companies to New Heights." Drawing on his experience as a serial entrepreneur, Nager guides business owners through the intricate process of hiring and maximizing the productivity of virtual assistants. The book serves as a comprehensive guide, empowering entrepreneurs to navigate the potential pitfalls and challenges of integrating virtual assistants into their operations successfully.
"Virtual Mastery" offers practical advice, proven strategies, and actionable tips that business owners can implement immediately. Nager's expertise and guidance enable entrepreneurs to make informed decisions when selecting virtual support agents, optimizing their workflow, and achieving maximum productivity. With this valuable resource in hand, home service company owners can confidently embark on their journey towards business growth and personal fulfillment.
Through Virtual Worker Bee's innovative approach and the insights shared in "Virtual Mastery," entrepreneurs within the home services industry are experiencing unparalleled success and newfound freedom. By leveraging the power of virtual assistants, business owners can delegate time-consuming tasks, enhance customer service, and focus on their core strengths, ultimately driving greater profitability and maintaining a healthy work-life balance.
About Virtual Worker Bee:

Virtual Worker Bee is a leading provider of virtual support agents for home service companies. With a meticulous selection process, they ensure that their clients have access to top-tier virtual support associates with extensive CRM expertise. Founded by serial entrepreneur Adam Nager, Virtual Worker Bee aims to revolutionize the home services industry by empowering business owners to scale their operations effectively.
To learn more about Virtual Worker Bee and explore the benefits of virtual assistant solutions for home service companies, visit www.virtualworkerbee.com.
Adam Nager
Quest Ancillary Services
+1 844-479-6699
email us here
Virtual Mastery – Chapter 1
Article originally published on www.einpresswire.com as Virtual Worker Bee Empowers Home Service Companies with Virtual Assistant Solutions