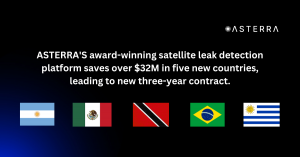 Satellite-based leak detection saves over $32M in five countries, leading to new three-year contract
We are thrilled by the results demonstrated by ASTERRA technology, delivering over 70 times the ROI, saving water and energy across the Americas"
— Elly Perets, chief executive officer of ASTERRA
SAN DIEGO, CA, UNITED STATES, October 12, 2023 /EINPresswire.com/ — ASTERRA announced that a $479,000 investment in ASTERRA satellite leak detection technology yielded a staggering total water cost savings of $32,000,000. Leading to a new three-year contract, the return on investment (ROI) was over 70x and the total water savings was 65.36 million cubic meters. The funding for the projects was enabled by the Inter-American Development Bank (IDB).
Aware of the issue of water leaks and the need for energy and water conservation in this region, the wheels for these projects were set in motion back in 2018. Water leaks increase the cost of water delivery and make economic development challenging. ASTERRA's award-winning satellite leak detection platform was used in a total of seven successful projects in Argentina, Mexico, Trinidad & Tobago, Brazil, and Uruguay. All seven projects were successful, locating infrastructure failures and water leaks before the leaks surfaced, preventing the destruction of property, and protecting the supply of potable water.
"We are thrilled by the results demonstrated by ASTERRA technology, delivering over 70 times the ROI, saving water and energy across the Americas," said Elly Perets, chief executive officer of ASTERRA. "Working with IDB on these seven projects in five countries is driving true economic development and protecting the climate in these regions of the Americas."
The project with Agua y Saneamientos Argentinos SA (AySA) in Argentina was so successful that it recently evolved into a 3-year contract. In Buenos Aires, the project area involved over 5,000 km of pipes, and 1,105 points with high potential for leaks were detected, generating savings of 2,000,000 m3 of water per year and increasing efficiency in leak detection by 138 percent. IDB created a video outlining the positive results of this project and more information can be found in the news release.
A summary of the total impact of the seven projects is as follows:

• Total investment by IDB: $479,000

• Total water cost saved: $32,000,000

• Total energy saved: 30,062 MHZ

• Total carbon emissions saved: 7,710 metric tons
Calculations are done for impact over 12 months. Values used for leak volume are from the American Water Works Association (AWWA) M36 manual, representing the typical water lost from a service main over 12 months. Values for electricity and CO2 vary based on volume of water estimated saved, the power usage, and fuel source. The electricity and CO2 values used in this calculator were taken from the California Energy Commission report CEC-500-2021-036 for Duarte, CA USA.
ABOUT ASTERRA

ASTERRA (formerly Utilis) provides geospatial data-driven platform solutions for water utilities, government agencies, and the greater infrastructure industry in the areas of roads, rails, dams, and mines. ASTERRA services use Polarimetric Synthetic Aperture Radar (PolSAR) data from satellites and use artificial intelligence (AI) to turn this data into large-scale decision support tools. The company's proprietary algorithms, and highly educated scientists and engineers are the keys to their mission, to become humanity's eyes on the Earth. Since 2017, ASTERRA solutions have been used in over 64 countries, saving over 368 billion gallons of potable water, reducing carbon dioxide emissions by 235,520 metric tons, and saving 920,000 MWH of energy, all in support of United Nations Sustainable Development Goals. ASTERRA is headquartered in Israel with offices in the United States, United Kingdom, and Japan. Their innovative data solutions are used in multiple verticals around the globe. For more information on ASTERRA and to learn more about their technology, visit https://asterra.io
Susan Fortner
BPR International
+1 6145620054
email us here
Visit us on social media:
Facebook
Twitter
LinkedIn
Instagram
The future is ASTERRA


Article originally published on www.einpresswire.com as ASTERRA brings staggering 70x ROI and climate impact in LATAM