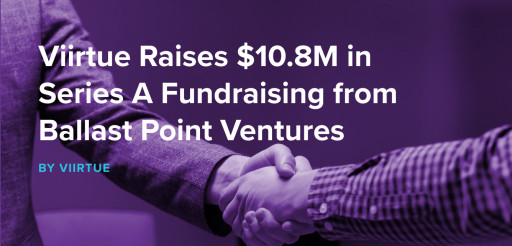 TAMPA, Fla., March 7, 2023 (Newswire.com) - Viirtue (viirtue.com), an award-winning wholesale voice & unified communications as a service ("UCaaS") provider, announced today that it has raised $10.8 million in Series A funding from Ballast Point Ventures IV.
"We are thrilled to have the support of Ballast Point Ventures as we continue to fulfill our mission to digitize channel partners and resellers," said Daniel Rosenrauch, who co-founded the company with Rob Finch in 2017. "Since launching Viirtue, our mission has been to provide our customers with the best possible tools and services to succeed in a rapidly evolving market."
"We are excited to partner with Viirtue to support the development and growth of ViiBE," said Sean Barkman, Partner at Ballast Point Ventures. "Viirtue is at the forefront of a rapidly evolving market, and we believe the Company is well-positioned to continue its growth trajectory. We look forward to partnering with another great local Tampa company."
Viirtue, a leading provider of white label UCaaS, will utilize this investment to help expand and enhance its innovative ViiBE platform. ViiBE's cloud-native, streamlined digital procurement to fulfillment software has already proven popular with its partners, and this latest injection of funding will enable Viirtue to accelerate its growth and adoption in the market. The Company is excited to take the next step in its mission to simplify the communications industry.
About Viirtue
Viirtue is an award-winning wholesale voice & UCaaS provider. The Company's proprietary all-in-one, quote-to-cash software and reseller dashboard provides a turnkey tool for sales, quoting, tax automation, marketing and online learning which transforms agents and value-added resellers into digitized service providers. For additional information, visit www.viirtue.com.
About Ballast Point Ventures
Ballast Point Ventures, headquartered in Tampa, Florida, is a later-stage venture capital and growth equity fund founded in 2002 to provide expansion capital for rapidly growing, privately owned companies, with a particular emphasis on companies located in Florida, the Southeast and Texas. The BPV partners have more than 80 years of combined experience investing in and building high-growth companies in several industries, including software, technology-enabled business services, and healthcare. Ballast Point Ventures has raised over $550 million across four Funds and seeks to make initial equity investments ranging in size from $5 million to $15 million. For additional information, visit www.ballastpointventures.com.
Q Advisors acted as the exclusive financial advisor to Viirtue in connection with this transaction.
Media Contact: [email protected]
Contact Information:
Eric Brooker
[email protected]
Original Source:
Viirtue Raises $10.8M Series A Fundraising From Ballast Point Ventures