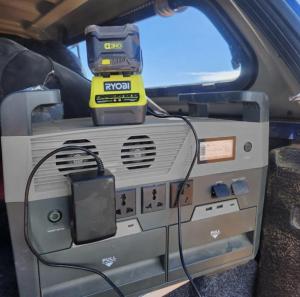 Airbase Duo
DecarbonVenture announcing Solar generator "AirBase Duo and AirBase Quad"
MELBOURNE , VIC, AUSTRALIA , August 9, 2023/EINPresswire.com/ — Decarbon Venture, an enterprise devoted to fostering innovative and eco-friendly energy solutions, has unveiled its new line of products: the AirBase Duo and Quad. These lightweight yet powerful solar generators present a legitimate alternative to traditional gas-powered generators. These devices cater to a variety of applications, from supplying power to tools at a construction site to offering electricity for a weekend getaway.
The AirBase Duo and Quad, coupled with the DCV Power Module and Solar Panels, deliver double the power of comparable products in the market and weigh only half as much. This unique combination makes them ideal for those who require portable power for their equipment or appliances. Furthermore, swappable batteries enhance convenience, permitting users to switch out batteries on the move.
The AirBase Duo boasts a 3000W output and 3600WH storage, making it perfectly suited for powering appliances or tools at a construction site or running air conditioning at a weekend retreat. It also appeals to individuals aiming to lower their carbon footprint without compromising on convenience. The AirBase Quad, on the other hand, provides a substantial 6000W output and 7200WH storage, catering to larger energy needs, such as powering a yacht or an RV for extended periods.
Complementing the AirBase generators, Decarbon Venture also presents the DCV Power Module and Solar Panels. The Solar Panels, the lightest of their kind, generate an impressive 400 Watts of power and weigh a modest 11Kg. These panels are engineered to integrate seamlessly with the AirBase generators, offering an efficient and green energy source.
Geoff Elwood, co-founder of Decarbon Venture, created the AirBase Duo for use at his weekend house to address the issue of reliable power with ample capacity for all-day heating and cooling.
Tom S, a tradesman, found the AirBase Duo transformative for his work. He often operates on construction sites lacking a dependable electricity source and had previously relied on gas-powered generators for his tools. This method was not only costly but also noisy and detrimental to the environment. With the AirBase Duo's 3000W output, Tom can power all his equipment for a full day, enhancing his work's efficiency and cost-effectiveness.
Andy B, a yacht owner, similarly found the AirBase Quad revolutionary for his boating experiences. He often struggles to secure a reliable power source with sufficient capacity for his extended sea voyages. With the AirBase Quad's 6000W output and 7200WH storage, complemented by solar and wind charging capabilities, Andy can power his Starlink, heating, cooling, and guidance systems for several days. The swappable batteries also offer the option of carrying additional modules for added peace of mind and capacity, if required.
Decarbon Venture's AirBase generators, the DCV Power Module, and Solar Panels mark a significant advancement in the journey toward sustainable and environmentally-friendly energy solutions. The company's cutting-edge semi-solid state technology revolutionizes the green energy sector by providing a sustainable and lightweight alternative to traditional generators.
The DCV Airbase products will be available via Kickstarter in early September. Visit www.decarbonventure.com for early bird registration and to stay updated on the latest product developments and other news.
Geoff Elwood
Decarbon Venture Limited
email us here
Decarbon Venture launch video
Article originally published on www.einpresswire.com as Breakthrough semi-solid state battery technology providing significant weight advantages over traditional Generators