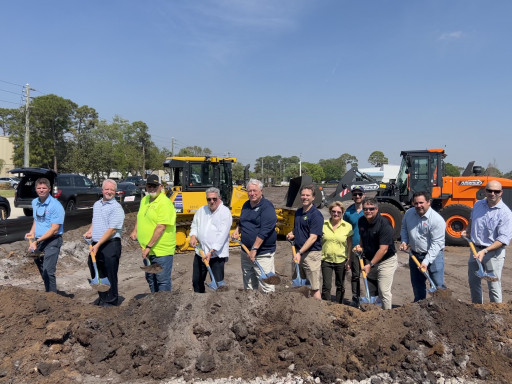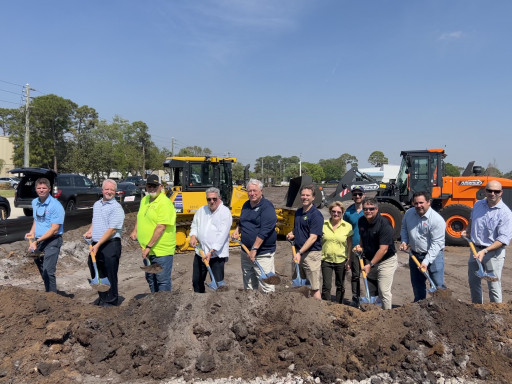 From left to right: Nick Burkel, Bob Hamilton, Paul Miles, Earl Tankleman, Brian McCarthy, Matt Gordon, Nancy Jenkins, Jesse Balaity, Mark Stevens, Michael Waskiewicz and Steve Price
PORT SAINT LUCIE, Fla., March 13, 2023 (Newswire.com) - The Pickleball Club, a brand-new, healthy living, private pickleball complex featuring 12 indoor pickleball courts and a number of exclusive amenities, recently held a groundbreaking ceremony for its Port St. Lucie location.
The Pickleball Club, founded in 2021 by commercial real estate and business entrepreneurs Brian and Valerie McCarthy and their business partner Matthew Gordon, is a firm that owns and operates membership-based indoor pickleball facilities throughout Florida.
"Florida's climate with rain, heat, wind, insects and humidity frequently disrupts the opportunity to play outdoor sports," said Brian McCarthy, founder and CEO of The Pickleball Club. "These indoor pickleball clubs will give members an upscale country club atmosphere to play and socialize year-round, no matter what the weather is like outside. We can't wait to open our first location next month, followed by several others over the next few years, to bring pickleball players across the state our brand-new concept for the fastest-growing sport in America."
Set to open in early 2024, the 33,293-square-foot complex in Port St. Lucie will feature championship-grade pickleball courts, a café, pro shop, locker rooms and a lounge. The second-floor mezzanine will house a bar, lounge, viewing area to the courts below, offices, conference rooms and storage. The space will also include two outdoor pickleball courts and two bocce ball courts with canopy shades.
The groundbreaking ceremony was held on Friday, March 3, at the club's future location situated at 455 NW Enterprise Drive in Port St. Lucie. The event attracted over 20 people, and attendees heard from representatives from The Pickleball Club, as well as Stevens Construction, the construction company selected for the project.
Currently, five additional clubs are in development in Fort Myers, Bonita Springs, Venice, The Villages and Lakewood Ranch, with 15 planned across the state of Florida over the next five years. The Lakewood Ranch location will be the first to open statewide in April 2023.
"The Pickleball Club concept is exciting and unique; their team has an unmatched energy; and we are honored to be selected as their construction manager," said Mark Stevens, president of Stevens Construction. "We've been working with them for more than a year through the design to make sure the project can be achieved within their budget and schedule — so we are delighted to see construction begin. We look forward to a long partnership with The Pickleball Club as we collaborate on additional locations."
During the event, The Play for Life Foundation, a nonprofit organization that The Pickleball Club sponsors, donated a portable pickleball set, known as a Club-N-Box, to the St. Lucie County Fire District. The foundation's mission is to introduce the sport of pickleball to youth, veterans and first responders.
Contact Information:
Kate De Michieli
Director of Public Relations
[email protected]
941-706-6236
Related Files
The Pickleball Club celebrates groundbreaking for Port St. Lucie club.docx
Original Source:
The Pickleball Club Celebrates Groundbreaking for Port St. Lucie Club