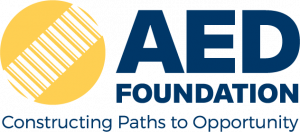 This event marks a significant milestone in AED's broader endeavor Vision 2025
ELIZABETHTOWN, KY, UNITED STATES, September 12, 2023/EINPresswire.com/ — AED Presents Career Awareness Day at Elizabethtown Community and Technical College to Address Growing Workforce Shortage in Equipment and Manufacturing
The future of the equipment distribution industry takes center stage as The AED Foundation, a prominent industry advocate, announces the "Elizabethtown Community and Technical College Career Awareness Day." This event is a pivotal step forward for AED's larger Vision 2025 Campaign, which aims to tackle the alarming skills gap and workforce shortage afflicting the equipment distribution sector.
Date: Thursday, September 14, 2023

Time: 9:00 AM – 3:00 PM (UTC-05:00) Eastern Time (US & Canada)

Location: Elizabethtown Community and Technical College's Occupational Technical Building 300
Over 300 students have signed up for the Awareness Day where they will gain exclusive insights into the college's accredited equipment programs. Highlights of the event include hands-on learning with heavy machinery, networking opportunities with top recruiters from AED Foundation's prestigious membership, a complimentary lunch, and a special raffle featuring exciting prizes.
This event marks a significant milestone in AED's broader endeavor to revitalize the declining industry. Vision 2025's objectives include:

• Establishing a minimum of 120 accredited college programs (currently 71)

• Recognizing a minimum of 200 high school programs (currently 36)

• Cultivating a robust talent pipeline with over 10,000 skilled technicians entering the workforce and 5,000 AEDF certified technicians

• Uplifting 500 AEDF certified managers
To fuel these transformative goals, the Vision 2025 Campaign aims to raise $10 million over the next five years. These funds will be earmarked for accrediting 40 college programs, acknowledging more than 100 new high school programs across North America, implementing workforce development strategies such as career pathways and industry awareness initiatives, and expanding the Foundation's endowment for the long-term sustainability of Vision 2025.
The AED Foundation is steadfast in its commitment to collaborating closely with local dealers, manufacturers, and service providers to ensure the resounding success of Vision 2025.
For further details about the Elizabethtown Community and Technical College Career Awareness Day and AED Foundation's Vision 2025 Campaign, please visit aedfoundation.org.
Media Contact(s):

Sean Fitzgerrel

Senior Director of Workforce & Industry Initiatives – AED

Email: [email protected]

Phone: (630) 352-9372
Participating Companies:

Ditch Witch Mid-States

EquipmentShare

United Rentals

Sunbelt Rentals

Kato

Brandeis Machinery

Wilson Equipment

Vermeer Heartland

Meade Tractor

Ohio Valley Ag
About The AED Foundation:

The AED Foundation (AEDF) is the non-profit foundation for the Heavy Equipment industry and is the sister organization to Associated Equipment Distributors (AED), the international trade association for equipment distributors, manufacturers, and service providers. The AED Foundation is actively addressing the serious shortage of skilled professionals in the equipment distribution industry through expansion of our "community-based, school-to-work" school partnership strategy. We're putting dealers, manufacturers, and educators together, working toward the common goal of growing a new generation of highly in demand, highly skilled, and high rewarding technical positions in the heavy equipment industry.
Amy Will
Associated Equipment Distributors
+1 630-286-1376
[email protected]
Visit us on social media:
Facebook
LinkedIn
Article originally published on www.einpresswire.com as AED Presents Career Awareness Day at Elizabethtown Community & Technical College to Address Workforce Shortage