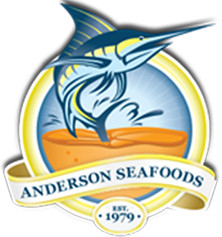 Through its Sand Dollars Rewards Club, Anderson Seafoods lets shoppers save as they spend and get even better deals on fresh seafood products.
Newswire.com
)
Anderson Seafoods is helping shoppers save big on their favorite seafood products with a customer rewards program that turns money spent into money saved.
Customers who purchase frozen or fresh seafood online through the Anderson Seafoods marketplace are automatically enrolled in the Sand Dollars Rewards Club. As members, customers earn one Sand Dollar rewards point per dollar spent, and can later spend their Sand Dollars toward the total of any future Anderson Seafoods purchase.
Through the rewards program, shoppers have the ability to save anywhere from $25 to $350 on a single order of specialty seafood and can use their Sand Dollar points to cover all or a portion of their order total.
The Sand Dollars Rewards Club is one more way that Anderson Seafoods shows its commitment to selling high-quality seafood—a mission that has been at the core of the company since its founding in 1979. In addition to loyalty savings and everyday affordable prices, Anderson Seafoods furthers this commitment by offering shoppers easy and direct shipment, with products sustainably sourced and processed with industry-leading safety standards.
Anderson Seafoods' products are three to eight days fresher than what's available at the grocery store and are shipped in eco-friendly containers that ensure they arrive ready to cook and enjoy. As a result, seafood lovers get delicious products that are ideal for restaurant-quality meals at home and that provide protein and vital nutrients for a healthy addition to any diet.
To join the Sand Dollars Rewards Club and start saving—and spending—Sand Dollar rewards points, simply make a purchase of premium seafood at ShopAndersonSeafoods.com. Sand Dollars can be earned on all fresh and frozen seafood products and specialty products like caviar and gift packages.  
About Anderson Seafoods
Anderson Seafoods is a global supplier of fresh, frozen, and live seafood products, with a commitment to quality and sustainability that has been in place since the company was founded in 1979. All products are imported, processed, portioned, and distributed through Anderson Seafood's USDC and HACCP-approved facilities, and are available for direct delivery through an extensive online seafood marketplace.
For more information, please visit www.shopandersonseafoods.com.
Contact Information:
Anderson Seafoods
8556543474
Press Release Service by
Newswire.com
Original Source:
Anderson Seafoods' Customer Rewards Program Makes It Easy to Save on High-Quality Fresh and Frozen Seafood