FAA Activates Scores of New, Faster Routes Along East Coast Ahead of Summer
Monday, May 1, 2023
WASHINGTON — Just in time for the busy summer travel season the FAA has activated 169 new routes along the East Coast that are more direct, saving passengers time, airlines fuel and increasing safety. 
"These significant improvements to our national airspace system are just in time for summer and will help travelers get to their destinations more efficiently," said Tim Arel, the chief operating officer of the FAA's Air Traffic Organization. "The new routes will reduce complexity and redistribute volume across all available airspace. I'm proud of the FAA and industry's strong collaboration on this project to get it done."
The direct routes will shave off 40,000 miles and 6,000 minutes of travel time annually from being shorter in distance. The change helps prevent delays by giving the agency more capacity to direct traffic to specific routes based on the aircraft's destination. When weather occurs, controllers will also have more flexibility. Finally, fewer converging points and more simple flows enhance safety.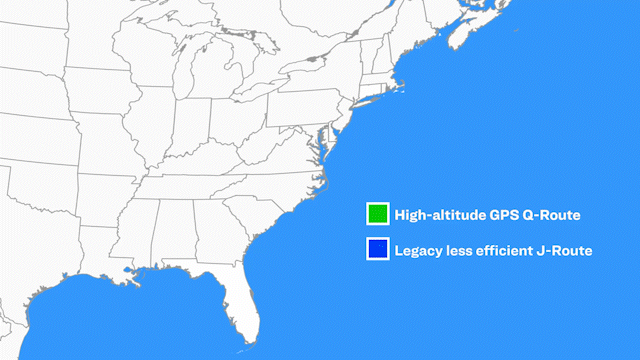 The new routes operate primarily above 18,000 feet in altitude along the East Coast, as well as offshore over the Atlantic and Gulf of Mexico. The FAA has sunset the legacy routes built when aircraft largely relied on ground-based radar, limiting the directness of routes, instead of GPS.  
The FAA worked collaboratively with industry for more than seven years to develop and implement these high-altitude highways in the sky.
Travelers can find the most up-to-date information about summer travel here.