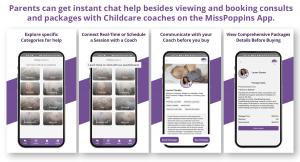 Download the MissPoppins App
The app provides an innovative marketplace connecting parents with expert coaches for a smoother parenting journey.
Aside from being a seasoned professional, each coach is also a parent. Having personally navigated the highs and lows of Parenting, they bring a unique, empathetic perspective to their coaching."
— Medha Nicky Rishi, Founder, MissPoppins
PALO ALTO, CALIFORNIA, USA, August 21, 2023/EINPresswire.com/ — Answering the Parenting Cry for Help
Parents frequently find themselves caught in a balancing act in a world increasingly characterized by relentless demands. The struggle to juggle professional responsibilities, personal life, and the (often) monumental task of raising children can often become overwhelming. Understanding this struggle, the innovative MissPoppins app has made its grand debut on App Store Apple and Google Play Store. MissPoppins is not just an app but a beacon of hope, designed to connect parents with certified coaches, making the intricate journey of parenthood smoother and more manageable.
The Need for a Parenting Ally

Parenting, especially in today's fast-paced world, is a multifaceted challenge. Gone are the days of traditional support systems offering guidance and child-rearing assistance. Today, parents are primarily on their own, navigating the complex and uncharted territories of Parenting with the added pressure of the digital age's unique challenges. The need for a reliable, knowledgeable ally in this journey has never been more apparent. That's where MissPoppins steps in. This groundbreaking App offers a user-friendly platform where parents can conveniently access professional guidance. Doing so eliminates the uncertainty and stress associated with trial-and-error approaches to childcare.
A Powerhouse of Parenting Coaches

One of the key strengths of MissPoppins is its diverse range of experienced coaches offering childcare and parenting consulting services and related packages. This carefully curated team comprises Doulas (Doula Coches), International Board Certified Lactation Consultants (IBCLCs), sleep coaches, behavioural health coaches, certified parenting coaches, nutritionists, and newborn care coaches. Aside from being a seasoned professional in their field, each coach is also a parent. Having personally navigated the highs and lows of Parenting and consulted with over 2000+ parents, they bring a unique, empathetic perspective to their coaching. Their professional knowledge and personal parenting experiences make them the perfect guides for parents seeking support.
Taking the Guesswork Out of Parenting

Parenting is an art and a science. While there's no one-size-fits-all approach, having expert guidance can significantly ease the process. MissPoppins is a staunch advocate for this philosophy. The App offers instant chat support with coaches, consultation packages with childcare specialists, and custom-made childcare packages at your fingertips. The emphasis is on providing parents with reliable support and expert advice, ensuring they're confident in crucial childcare situations.
Fulfilling the Dream of a Digital Village

MissPoppins is the brainchild of founder Nicky Rishi, whose vision for the platform resonates with the proverb, 'It takes a village to raise a child.' In her words, "We aim to digitally reconstruct that village with MissPoppins with a platform where parents can find resources, seek expert guidance, and be part of a community that understands and shares their struggles. Each of our coaches is integral to this vision, guiding parents empathetically based on their professional expertise and personal parenting experiences."
Calling All Parents to Join the Revolution

As the countdown to the launch of MissPoppins begins, all parents are cordially invited to join this pioneering platform. Begin your transformative parenting journey with MissPoppins by visiting With the promise of redefining digital parenting support and fostering an empowered, knowledgeable community, MissPoppins beckons all parents to be part of this empowering revolution.
Download the MissPoppins app on App Store Apple and Google Play Store.
Medha Nicky Rishi
MissPoppins, Inc
[email protected]
Visit us on social media:
Facebook
Twitter
LinkedIn
Instagram
Other


Article originally published on www.einpresswire.com as MissPoppins App: Navigating Parenthood with Ease