Immersive XR Surgery Training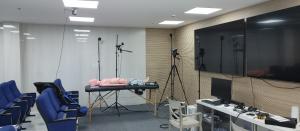 State-of-the-Art Training Center
Pioneering XR Surgical Solution and Latin America's First State-of-the-Art Training Center Set to Transform Global Healthcare Landscape
SAN FRANCISCO, CA, USA, April 25, 2023/EINPresswire.com/ — Veyond Metaverse, a pioneer in real-time 3D immersive communication systems, and RapiDiagnostics S.A., a leading healthcare company in Ecuador and Peru, proudly announce the launch of a groundbreaking XR Surgical Solution and Latin America's first state-of-the-art XR Metaverse healthcare lab and training center in Guayaquil, Ecuador. This innovative facility, with a seating capacity of over 100 participants, is set to revolutionize surgical procedures in the region by accelerating the development, implementation, and adoption of extended reality (XR) technology.
The XR Surgical Solution and Training Center will offer cutting-edge virtual and augmented reality-based training programs for surgeons, enabling them to practice and refine their skills in a safe, immersive environment. This state-of-the-art facility will also serve as a platform for live telemedicine consultations and remote collaboration between surgical teams, ultimately improving patient outcomes and reducing complications during surgical procedures.
A key feature of the XR center will be live sessions with key opinion leader (KOL) surgeons from Ecuador and/or other countries, allowing regional healthcare professionals to interact and collaborate with international experts without the need for travel. This unique opportunity for knowledge exchange and global collaboration will significantly benefit surgeons and ultimately improve patient care in Latin America. Renowned French surgeon Pr. Thierry Flam, who has participated in numerous test runs using the XR surgical solution, commented, "The XR Surgical Solution is a game-changer in the field of surgery and remote medical assistance in general. It has the potential to revolutionize surgical and emergency medicine training and practice, leading to safer surgeries and improved patient outcomes. I am excited to see its adoption and impact in Latin America and beyond."
"The launch of Latin America's first XR healthcare lab and training center focused on surgical applications is a testament to our dedication to transforming healthcare in the region," said Adam Choe and Dr. Joon Chung, Co-Founders of Veyond Metaverse. "Our collaboration with RapiDiagnostics S.A. allows us to bring innovative XR surgical solutions to the forefront, ultimately saving lives and improving patient outcomes."
Jimmy Silva, CEO of RapiDiagnostics S.A., and Eng. Gabriel Honce added, "Our partnership with Veyond Metaverse marks a new era in healthcare for Latin America. The state-of-the-art XR Surgical Solution and Training Center will enhance access to surgical education and training, provide remote medical consultations, and drive significant advancements in patient care. We are excited to be at the forefront of this groundbreaking initiative."
The inaugural XR Surgical training at the center was conducted on April 20, 2023 in collaboration with Clinica Hospital San Francisco. This new venture complements the plan between Veyond Metaverse and RapiDiagnostics S.A. to broadcast the world's first 3D Metaverse surgery from Ecuador in 2Q, 2023. The event will showcase the global reach and impact of their partnership, involve initially Pr. Thierry Flam and expand into prestigious medical centers in the USA and Korea.
About Veyond Metaverse: Veyond Metaverse is a leading provider of real-time 3D communication experiences, connecting people around the world through its cutting-edge immersive communication technology. Its flagship product, Veyond Connect, offers telemedicine, medical education, and training solutions.
About RapiDiagnostics S.A.: RapiDiagnostics S.A. is a top healthcare company based in Ecuador, committed to improving access to quality healthcare for all. The company collaborates with local and international organizations to provide cutting-edge healthcare solutions and services, including diagnostic testing, medical imaging, laboratory services, and telemedicine. With a focus on innovation, excellence, and patient-centered care, RapiDiagnostics S.A. has established itself as a leading healthcare provider in Ecuador and Peru.
Jimmy Silva

CEO

RapiDiagnostics S.A.

http://www.rapidiagnostics.com

[email protected]
Adam Choe

CEO

Veyond Metaverse

[email protected]

www.veyondmetaverse.com
Investor Relations
Meng Hua Aw

Managing Director

[email protected]

www.cohenbrothers.eu
Adam Choe
Veyond Metaverse
[email protected]
Article originally published on www.einpresswire.com as Revolutionary XR Surgery & Latin America's Premier Training Center to Transform Global Healthcare Landscape