Producer Ajal, Jahshii & Frassman Brilliant – Protection (Cover Art)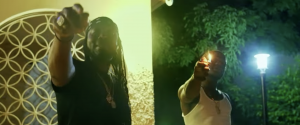 Frassman Brilliant & Jahshii
Producer Ajal
For Immediate Release: Producer Ajal, Jahshii & Frassman Brilliant "Protection" Official Video
Despite what I have been through in my life and the unfortunate situations that have occurred, I know that there is a true God and I look to him for guidance and protection,"
— Jahshii
SAN FRANCISCO, CA, UNITED STATES, August 9, 2023/EINPresswire.com/ — Jahshii asks for Protection
Despite his recent troubles, dancehall artiste Jahshii has decided to dust himself off and focus on redemption.
On his latest single Protection which is produced by Producer Ajal, the embattled deejay reflects on his life experiences while acknowledging that the Creator has a higher purpose for him.
Frassman Brilliant is also featured on Protection, released Friday July 28th.
"I've been down this road before, but Jah protect me," says Jahshii in the song which also tackles fake friends, bad mind, and betrayal.
"Despite what I have been through in my life and the unfortunate situations that have occurred, I know that there is a true God and I look to him for guidance and protection," said Jahshii.
Frassman Brilliant says the song is relatable as he has been through some of what Jahshii has experienced.
"The inspiration behind the song is just the things that Jahshii is actually going through right now and I've been down that road before, so it was coming from life experience," said Frassman Brilliant
Protection is the latest single from Producer Ajal, who recently teamed up with Demarco on the song Charge Fi Yuh and with Teejay on Faith.
Said Producer Ajal, "It was a pleasure working with both artists on this track. They're both talented and have had similar life experiences which allows them to speak from the heart and add pure emotions to the track. I am confident that this song will motivate the world to overcome and persevere." said Producer Ajal.
Producer Ajal
Ajal Music Group
email us here
Visit us on social media:
Instagram
YouTube
TikTok
Producer Ajal, Jahshii & Frassman Brilliant – Protection (Official Video)
https://www.youtube.com/watch?v=RztRjwOPiXg


Article originally published on www.einpresswire.com as Producer Ajal, Jahshii & Frassman Brilliant "Protection" Official Video