Darin Kidd Live at the 2023 MetalStacks Annual Dealer Conference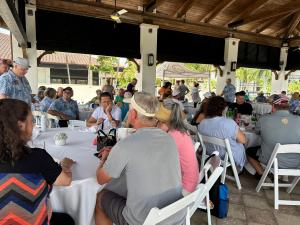 Cajun Cookoff at the 2023 MetalStacks Annual Dealer Conference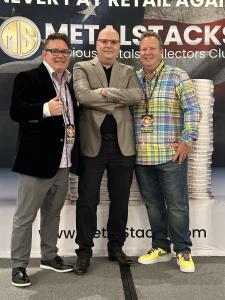 Founders of MetalStacks at 2023 Annual Dealers Conference
MetalStacks concluded its highly anticipated annual conference with resounding success, leaving attendees inspired and empowered.
PALM BEACH, FL, USA, August 21, 2023/EINPresswire.com/ — MetalStacks, the dynamic new player in the network marketing arena, concluded its highly anticipated annual conference with resounding success, leaving attendees inspired and empowered. The event, held at the PGA National Resort and Spa in Palm Beach, FL, showcased the company's innovative approach to combining precious metals collecting with a cutting-edge network marketing platform, setting new standards for the industry.
The MetalStacks Annual Conference attracted hundreds of passionate entrepreneurs and precious metals enthusiasts from around the USA and Canada. Over the course of three electrifying days, attendees experienced a diverse range of engaging workshops, motivational speeches from industry leaders, and interactive sessions aimed at fostering professional growth and financial prosperity.
One of the key highlights of the conference was the unveiling of MetalStacks' revolutionary new product line. Attendees were thrilled to witness the introduction of an exclusive collection of high-quality precious metals, meticulously sourced from reputable global suppliers. MetalStacks' commitment to authenticity and purity has positioned the company as a trusted name in the precious metals market.
During the event, the company introduced, Darin Kidd, a best selling author, global keynote speaker, executive trainer, and business growth consultant. Darin took the stage to deliver a powerful keynote address. The company's visionary CEO and founder, Donnie D'Auria, shared the company's vision of empowering individuals to attain financial independence while providing a secure avenue through precious metals. Attendees were captivated by the CEO's infectious enthusiasm and genuine dedication to transforming lives.
In addition to the product launch and motivational sessions, the MetalStacks Annual Conference also highlighted the unparalleled earning potential of its network marketing platform. Top-performing associates were honored for their exceptional achievements, with many achieving remarkable milestones in their business journey. Attendees left the event with renewed motivation to forge ahead, armed with the knowledge that MetalStacks provides a unique opportunity to unlock financial success.
"Our annual conference has been an awe-inspiring experience for all of us at MetalStacks," stated Kurt Stevenson, CTO and Creative Director. "The overwhelming support from our passionate community and the success stories we witnessed further solidify our belief in the transformative power of our products and compensation plan. MetalStacks is ready to take the network marketing industry by storm!"
MetalStacks' exponential growth and game-changing business model have already garnered attention and recognition within the network marketing sector. With its proven track record of empowering individuals to achieve their financial goals, the company has become a catalyst for positive change in the lives of countless individuals worldwide.
As MetalStacks continues its mission to redefine network marketing and precious metals purchasing, aspiring entrepreneurs and collectors are encouraged to join this thriving community and unlock their full potential.
For more information about MetalStacks and its groundbreaking opportunities, please visit https://www.metalstacks.com.
About MetalStacks:

MetalStacks is a cutting-edge precious metals network marketing company dedicated to revolutionizing the way individuals purchase, collect, and benefit from precious metals. With a compelling product line, unparalleled compensation plan, and a passionate community of distributors, MetalStacks is poised to lead the network marketing industry into a new era of financial empowerment.
Donnie DAuria
MetalStacks
+1 5615293001
[email protected]
Visit us on social media:
Facebook
Twitter
LinkedIn
Instagram
YouTube
Learn about MetalStacks Precious Metals Collectors Club


Article originally published on www.einpresswire.com as Precious Metals Network Marketing Company Takes Industry by Storm with Record-Breaking Annual Conference