BLUETTI AC180 Perfect Power For Your Camping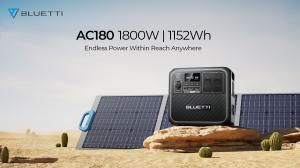 BLUETTI AC180 1800W – 1152Wh Endless Power Within Reach Anywhere
The recent surge in outdoor adventure popularity has naturally spurred increased demand for off-grid power.
GERMANY, April 25, 2023/EINPresswire.com/ — The growing interest in outdoor adventures has led to a higher demand for off-grid power. Many camping enthusiasts still use fossil-fuel generators as an alternative power source. BLUETTI plans to release the AC180 portable power station this month, which aims to improve access to green solar energy and offer better cost performance.
Portable Power for Various Destinations

The BLUETTI AC180 is designed to be packed for any trip, as its 1,152Wh capacity provides all-day battery life from a single charge. This reduces the need to find AC outlets for charging devices. With a 500W solar input, the station can be fully recharged using solar energy in just a few hours.
For campers who appreciate a morning cup of coffee, the BLUETTI AC180 makes it feasible even in remote locations. With Power Lifting Mode providing up to 2,700W output, the AC180 can operate a coffee maker and electric kettle without difficulty.
Reliable Power Supply During Blackouts

Power failures are becoming more common due to extreme weather events, natural disasters, an aging electricity grid, and the growing conflict between increasing power demand and energy shortages. On Christmas Eve 2022, over 500,000 homes and businesses lost power due to winter storms across the US.
Having the AC180 as a backup power source can help households be better prepared and potentially safer in some situations.
The AC180 stores electricity in its battery for later use. When a power blackout happens, emergency power switches over in just 20ms, making it almost unnoticeable. Lights stay on, computers don't shut down, aquariums remain functional, CPAP machines work smoothly, and food stays fresh in the refrigerator.
Compact Design with Noticeable Impact

Building on the achievements of the AC150 and AC240, the BLUETTI AC180 incorporates several small improvements. Whether used as a portable power supply for outdoor activities or a backup power source, the AC180 is a reliable option.
About BLUETTI

From the very beginning, BLUETTI has remained committed to a sustainable future by providing green energy storage solutions for both indoor and outdoor use while delivering an exceptional eco-friendly experience for homes and the planet. As a result, BLUETTI has a presence in over 70 countries and is trusted by millions of customers worldwide. For more information, visit BLUETTI online at https://www.bluettipower.eu/.
Jacinda
POWEROAK GmbH
+86 130 4085 7737
email us here
Visit us on social media:
Facebook
Twitter
Instagram
YouTube


Article originally published on www.einpresswire.com as Off-grid Lifestyle Supported by BLUETTI AC180 Portable Power Station