Artist Tanja Playner in the atelier
Rebeccah Klodt in the atelier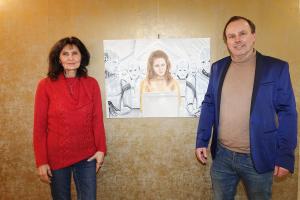 Artist MANO with Curator Heinz Playner
BASEL, SWITZERLAND, June 16, 2023/EINPresswire.com/ — During the Art Basel week 2023 the other art exhibitions are also on display. The MAMAG Modern Art Museum is organizing the exhibition "Fine Art Biennale Basel" from 16 to 18 June 2023. Over 30 artists from different countries were selected for the exhibition. The exhibition shows the diversity of art, which establishes a dialogue between modern thinking and a touch of the past and the history of art. The exhibition was curated by the curator and director of MAMAG Modern Art Museum Heinz Playner. You can see sculptures, paintings, digital art, photography. The exhibition will take place in the Grand Salon of the Hotel Victoria in Basel.
In the exhibition will be shown works of art by Tanja Playner, MANO, Rebeccah Klodt, Constantina P. Jones, Alessandra Haldi Piano, Katharina Rochat, Irit Rotrubin, Janusz Tworek, Julia McClurg, Pilar Rivero, Sophia Xinman Wang, Keith Edwards, Dasha Lapushka, Aline Pouget, Sotaro Takanami and other artists.
Tanja Playner explores new perspectives and objects in her painting style. She divides the motif into several parts and often sets upper and lower bodies perpendicular to each other, but on different objects. This creates a new view of space and perspective.
Works of art by Rebeccah Klodt from USA impress with their abstract implementation, which the artist draws from her environment.
Constantina Papanagiotou Jones combines photographic skills with color implementation and the addition of geometric elements. She has taken part in a number of exhibitions in Manchester and London UK, Milan and Florence Italy, Fuerteventura Canary Islands and Biennale Barcelona.
Artworks by Keith Edwards are the result between realism and the digital world. In his art, Keith Edwards deals with history, architecture, everyday life and surrealistic visions.
Artworks by Janusz Tworek are emotional, expressive and surrealistic. The authentic implementation of the works is important to the artist.
In her latest works, Julia McClurg engages questions of identity as they relate to art history as well as our everyday interactions with mainstream culture and social media. Greatly inspired by modernist masters as well as pop-artists, McClurg mixes fragments of different iconic images in vivid and colorful compositions.
Alessandra Haldi Piano combines elements from nature in her artworks. She combines sand and shells with art materials and brings the feeling of the place like the sea and the beach to the viewer. Water worlds, natural beauty and images of people characterize the artistic work of Katharina Rochat. It is important to her to place the viewer in a room with harmony and a joyful atmosphere.
Landscapes, portraits, still lifes, but also themes from modern society can be seen in the works of art by MANO. MANO has had solo and group exhibitions in Hungary, Sweden, Israel, Austria, Belgium, Romania, USA, Canada and Italy.
Irit Rotrubin is a photographer and specializing in artistic photography. In her works, the artist deals with the connection between the camera and the colors in the artist's work. She often works with techniques of light and shadow.
The exhibition is open to the public on June 17th and 18th.
Fine Art Biennale Basel
Exhibition Location:
Hotel Victoria (Grandsalon)
Centralbahnplatz 3/4,
4002 Basel
Switzerland
17-18 June 2023
17 June 2023: 11 AM – 5 PM
18 June 2023: 11 AM – 3 PM
Vernissage: 16th June 2023, 7-9 PM
Heinz Playner
MAMAG Modern Art Museum
[email protected]
Article originally published on www.einpresswire.com as Fine Art Biennale Basel starts today