In an era marked by rapid technological advancement and the ever-evolving dynamics of the corporate realm, the name Franck Cormier has become synonymous with visionary leadership, strategic prowess, and a relentless commitment to innovation.
From the hallowed halls of global telecommunications giants to the helm of cutting-edge startups, Cormier's journey has been a masterclass in navigating complexity, driving growth, and shaping the industries that his company Smart/tasking touch to optimize processes and nurture growth.
A Voyage of Pioneering Leadership
Cormier's ascent to the upper echelons of the business world began as a Financial Analyst at EDS, where he swiftly established himself as a force to be reckoned with. Guided by an innate understanding of complex structures and commercial evaluations, Cormier's contributions laid the foundation for his recognition as a key figure in the company's landmark achievements. His pivotal role in the manufacturing sector, including the largest transaction in the EMEA region outside of parent company GM, underscored his strategic acumen and set the stage for a remarkable journey ahead.
Championing Disruption and Innovation
Cormier's tenure as the Divisional CEO of Equant (France) stands as a testament to his commitment to innovation and disruption. His ascent to the CEO position at the young age of 34 was a harbinger of the transformative leadership that would follow. Guided by a vision of organizational development and goal-oriented leadership, Cormier's tenure witnessed the exponential growth of Equant, catalyzed by pioneering offerings including firewalling, DNS, and cloud services. Under his guidance, Equant France charted a new trajectory, disrupting the market and redefining the landscape.
Shaping the Global Landscape of Telecom Infrastructure
Cormier's impact continued to reverberate at Equant, where his role as Head of Solutions post-acquisition by France Telecom showcased his mastery in forming, developing, and scaling transformational teams. His ability to navigate complex, large-scale deals to secure annuity revenue underscored his strategic prowess. Notably, his leadership in executing a groundbreaking global telecom outsourcing transaction set a benchmark for the industry, a testament to Cormier's ability to drive impactful change in the global telecom landscape.
A Legacy of Innovation and Transformation
Cormier's journey was far from complete, as he took on pivotal roles at BT and Ciena, each chapter marked by transformative accomplishments and industry-shaping decisions. As the Head of Transformational Sales and later CEO of BT France Services, Cormier led a team of consultants who orchestrated some of the most substantial B2B transactions in the telecom space. His ability to integrate acquisitions seamlessly and transform operational models solidified his legacy as a master strategist.
A New Horizon at Smart/tasking
In his most recent chapter, Cormier assumed the role of Partner in the EU and President of Smarttasking Inc., USA. His dynamic leadership has been instrumental in attracting top-tier talent and fostering innovation, positioning Smart/tasking as a formidable player in the global landscape. Cormier's permanent move to the US marks another chapter in his career and an opportunity for more American companies to benefit from his experience and skills.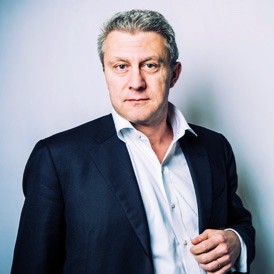 In a world defined by change, Franck Cormier's journey serves as a guiding light—a testament to the power of innovation, strategic acumen, and transformative leadership in shaping industries, fostering growth, and leaving an indelible mark on the global business landscape.