Unlock a safer retail environment with ShopperAccess, an innovative, shopper-friendly mobile technology that helps reduce retail shrink.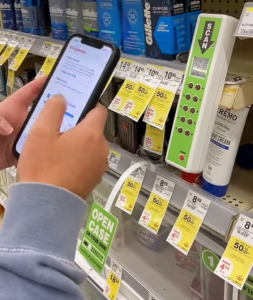 Tackle Retail Theft. Easy as 1) Scan Dynamic QR Code, 2) Enter phone number, 3) Access product using unique code on keypad.
An innovative mobile technology, ShopperAccess empowers shoppers, eases the stress on store associates and reduces shrink by protecting merchandise in-store.
By continuing to apply technology that enhances engagement, improves security, and painlessly delivers analytics Darko is ready to tackle the digital transformation challenges of today & the future."
— Andy Creque, Director Digital Innovation, Darko
CLEVELAND, OHIO, UNITED STATES, August 30, 2023/EINPresswire.com/ — Cleveland-based Darko, a leading custom retail display provider, has unveiled a new option for retailers and brands to safely showcase valuable merchandise in-store. ShopperAccess, a cloud-based mobile technology was launched last month at multiple Loss Prevention events hosted by the Retail Industry Leaders Association (RILA) and the Loss Prevention Retail Council (LPRC).
In response to the growing concerns surrounding retail crime, a problem poised to reach $100B, ShopperAccess is a scalable, fast, and frictionless remedy for troubled retailers, frustrated shoppers, and time-strapped retail associates. Darko collaborated with Philips Personal Health consumer products division to address the demand for a more cost effective, shopper-centric solution and unlike other options, ShopperAccess is unique in its ability to be customized without a need for AC Power, Wi-Fi connectivity or an App. ShopperAccess also encompasses the flexibility to integrate into existing retailer systems or physically anywhere in-store; standard shelving, end-caps, in-line, retro-fit to any existing retail fixture system and even private or public access doors.
"I loved the self-service option. I don't have the time to wait or a desire to talk to anyone while I am shopping. ShopperAccess lets me do it myself." – CPG & Drug Chain In-Store Shopper
The technology is currently being tested at select retailers throughout the U.S. within categories experiencing a high probability for theft. Participating CPG brand partners are already receiving positive responses from both shoppers and retail management teams on the convenient and improved in-store experience.
With a plethora of solutions currently in the market, ShopperAccess' use of dynamic QR codes adds an increased level of both expediency and security. Consumer research indicated that 92% of shoppers were willing to enter a phone number for access and 66% would have abandoned the purchase without the self-service option. ShopperAccess empowers consumers to control their experience, through their personal mobile device, while also reducing the time burden and safety of retail employees.
The SA Cloud lets brands and retailers unleash the omni-opportunity by offering a platform for expanded brand interfaces. Cloud-connectivity secures anonymous shopper data while letting the brands and retailers optimize content, perform remote updates, troubleshoot, and monitor the health of the display.
Say good-bye to manual keys, aisle-call buttons, and intercoms as ShopperAccess will deliver immediate satisfaction for both retail personnel and store patrons, lessening the concerns and challenges of access denial and shopper abandonment. Reduce shrink. Sell more, lose less is our motto.
"We all want to have an engaging shopping experience, whether it is on-line, or in-store and we recognize that retailers need to securely merchandise products to deter theft. Darko has made it our mission to develop and deploy scalable digital solutions that meet these 'tall' requirements. By continuing to apply technology that enhances engagement, improves merchandise security, and painlessly delivers analytics we are ready to tackle the digital transformation challenges of today and well into the future." -Andy Creque, Director of Digital Innovation, Darko Inc.
Visit https://www.darkoinc.com/shopper-access or contact us at [email protected]
About Darko:
Darko, based in Bedford Heights, Ohio, is a custom retail display provider and shopper experience partner to more than 100+ international brands and retailers. An in-house team of designers, engineers, marketers, and digital experts work diligently to support all U.S. sales locations and our global client base, by creating successful experiential retail displays and in-store environments.
Darko's Tech-Lab employs talented programmers and developers and provides stand-up custom solutions and product development supported via backend cloud-based systems to help partners emerge as leaders in retail technology. An on-hand compliance team also ensures activation, display health and life of program maintenance to maximize clients' return on investment (ROI). Global reach enables Darko to source, produce and deploy programs across all regions to support an international clientele. Since 1974, Darko's commitment to clients and the ever-changing retail industry is a continued investment in infrastructure, personnel and innovation keeping us at the forefront of the business landscape, consumer shifts and technological advances.
About Philips:
At Philips, our purpose is to improve people's health and well-being through meaningful innovation. We aim to improve 2.5 billion lives per year by 2030, including 400 million in underserved communities.
As a technology company, we innovate for people with one consistent belief: there's always a way to make life better. We are a health technology company. We built our entire company around the belief that every human matters, and we won't stop until everybody everywhere has access to the quality healthcare that we all deserve.
Lisa Parks
Darko
[email protected]
Visit us on social media:
LinkedIn
ShopperAccess Loss Prevention and Retail Theft Mobile Technology – :30 Live Demonstration
Article originally published on www.einpresswire.com as ShopperAccess Is Live and Ready to Tackle Retail Theft