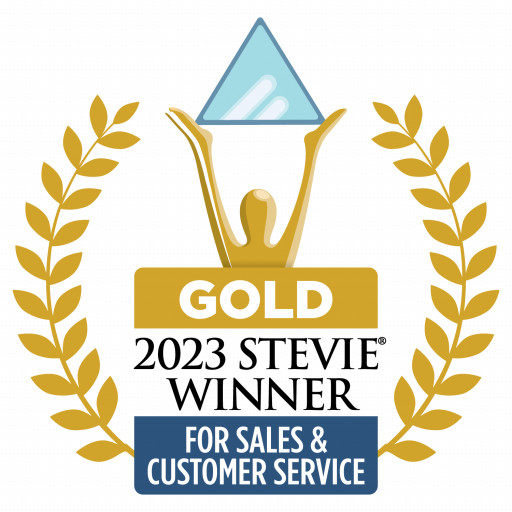 Netsertive's Lori Klein and Jessica Wall take home 2023 Stevie Awards for contributions in helping large brands solve their most pressing issues in multi-location marketing
MORRISVILLE, N.C., March 13, 2023 (Newswire.com) - Netsertive, a marketing technology provider that enables franchise brands and multi-location businesses to execute localized digital marketing at scale, announced today it was named a winner in two categories of the 17th annual Stevie® Awards. Netsertive's Director of Franchise Partnerships, Lori Klein, was named a Gold medal winner for Sales Representative of the Year and Jessica Wall, Client Success Manager, was named a Bronze medal winner for Customer Service Manager of the Year, recognizing their specific contributions to helping large-brand clients solve their most pressing issues in multi-location marketing.
The Stevie Awards are one of the world's leading business awards competitions, and include the prestigious American Business Awards and International Business Awards®. More than 2,300 nominations from organizations of all sizes and in virtually every industry, in 49 nations and territories, were evaluated in this year's competition. Finalists were determined by the average scores of more than 170 professionals worldwide, working in seven specialized judging committees.
As a localized digital marketing technology partner for franchise brands and multi-location businesses, Netsertive sales and customer experience professionals play a critical role in delivering a robust, localized digital marketing capability for their clients. Gold medal winner Lori Klein and Bronze medal winner Jessica Wall both bring an unmatched depth of expertise to help multi-location marketers better integrate and simplify their MarTech stack for more effective and efficient digital execution.
"As a former multi-location brand owner and marketing leader herself, Lori exudes passion and empathy in her collaboration with clients on their marketing challenges. She delivers expertise and value in each stakeholder interaction," says Ron Cygnarowicz, VP of Sales for Netsertive.
"Jessica brings enthusiasm, professionalism, and a customer-first attitude to her account management role. She cares deeply about her customers' success and is relentless in providing a stellar customer experience," says Meaghann Nielsen, VP of Customer Experience for Netsertive.
Details about the Stevie Awards and the list of Finalists in all categories are available at www.StevieAwards.com/Sales.
To learn more about how Netsertive's localized digital marketing solution can help your multi-location business acquire more local customers online, please visit www.netsertive.com.
About Netsertive
Netsertive delivers multi-location marketing technology solutions that enable franchise brands and multi-location businesses to execute localized marketing at the intersection of our proprietary technology and deep hyper-local expertise. Our Multi-Location Experience Platform creates, deploys and provides the data to efficiently manage profitable, localized marketing at scale while you focus on delivering value to your customers.
Over 1,500 retailers, franchises, auto dealers, and media companies trust our unique solution that couples our technology and team to execute localized content, advertising & insights at scale. Learn how Netsertive can enable you to deliver highly effective, localized marketing experiences at www.netsertive.com.
About The Stevie Awards
Stevie Awards are conferred in eight programs: the Asia-Pacific Stevie Awards, the German Stevie Awards, the Middle East & North Africa Stevie Awards, The American Business Awards®, The International Business Awards®, the Stevie Awards for Great Employers, the Stevie Awards for Women in Business, and the Stevie Awards for Sales & Customer Service. Stevie Awards competitions receive more than 12,000 entries each year from organizations in more than 70 nations. Honoring organizations of all types and sizes and the people behind them, the Stevies recognize outstanding performances in the workplace worldwide. Learn more about the Stevie Awards at www.StevieAwards.com.
Contact Information:
Erin Martin
VP of Marketing
[email protected]
206-436-2719
Related Images
Original Source:
Netsertive Wins Gold and Bronze in 2023 Stevie Awards for Sales & Customer Service