carpet cleaner in vancouver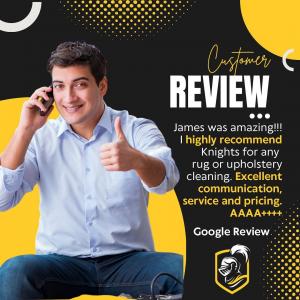 customer review of our cleaning services
Knights of Cleaning: 2023 Success Story – Doubled Revenue & Expanded Team. Discover their remarkable journey here!
VANCOUVER, BRITISH COLUMBIA, CANADA, November 3, 2023 /EINPresswire.com/ — Knights of Cleaning, a Vancouver-based carpet cleaning company, is thrilled to announce their remarkable growth in 2023. The company has achieved outstanding results, doubling their revenue and expanding their workforce by adding three new team members. With a dedicated calling team, an effective sales team, and a full-time tech team, Knights of Cleaning is poised for even greater success in the coming year as they aim to double their sales and workforce once again.
In a year marked by challenges and uncertainties, Knights of Cleaning has stood out as a beacon of success, demonstrating their commitment to excellence and dedication to their customers. The company's impressive growth is a testament to their unwavering focus on quality service and the trust of their expanding customer base.
Doubled Revenue

Knights of Cleaning has seen a phenomenal 100% increase in their revenue over the past year. This substantial growth is a reflection of their relentless pursuit of excellence in the carpet cleaning industry. The company's commitment to delivering high-quality service, combined with their innovative approach to carpet cleaning, has won them a growing number of loyal customers. Their reputation for exceptional service and customer satisfaction has also led to an increase in repeat business and referrals.
CEO Celebrates Impressive Growth and Team Dedication

Mr. James Minett, the Head of Operations/CEO of Knights of Cleaning, expressed his gratitude for the company's impressive financial performance, saying, "We are thrilled to see such significant growth in our revenue. It's a testament to the hard work and dedication of our entire team. We have always strived to be the best in the carpet cleaning industry, and these results show that our efforts are paying off."
Expansion of Workforce

In addition to doubling their revenue, Knights of Cleaning has welcomed three new team members to their ranks, demonstrating their commitment to providing top-notch service and growing their operations. The newly expanded team includes a calling team, a sales team, and a full-time tech team, each of whom plays a crucial role in the company's success.
The calling team is responsible for reaching out to customers and scheduling appointments, ensuring a seamless and hassle-free experience for clients. The sales team focuses on understanding customer needs and offering customized cleaning solutions, while the tech team employs state-of-the-art equipment and techniques to provide thorough and efficient carpet cleaning.
Mr. Minett shared his excitement about the company's growth and the new team members, saying, "Our new team members bring a wealth of knowledge and expertise to Knights of Cleaning. Their contributions will undoubtedly help us deliver even better service to our valued customers and continue our upward trajectory."
Ambitious Goals for 2024

With their exceptional growth in 2023 as a strong foundation, Knights of Cleaning has set ambitious goals for the coming year. The company aims to double both its sales and workforce by the end of 2024, striving for even greater success and market dominance. This expansion will enable them to serve more customers and maintain their commitment to quality service.
Mr. Minett emphasized the company's vision for the future, stating, "Our goals for 2024 are ambitious, but we are confident in our team's abilities and our commitment to excellence. We will continue to invest in training, technology, and customer service to ensure our customers receive the best carpet cleaning services in Vancouver."
Customer-Centric Approach

Knights of Cleaning's success can be attributed to their unwavering dedication to providing excellent customer service. They prioritize customer satisfaction and maintain a strong customer-centric approach in every aspect of their business. This approach has resulted in positive reviews, referrals, and a loyal customer base, which has been integral to their growth.
The company remains committed to offering a wide range of services, including deep carpet cleaning, upholstery cleaning, and stain removal, all delivered with the utmost care and attention to detail. They are also committed to using eco-friendly and safe cleaning solutions, ensuring a healthy and sustainable living environment for their customers.
Community Involvement

Beyond their business achievements, Knights of Cleaning is actively involved in the Vancouver community. They believe in giving back and have participated in various local initiatives and charities. Their dedication to community involvement aligns with their values, which include not only providing outstanding cleaning services but also making a positive impact on the community they serve.
About Knights of Cleaning

Knights of Cleaning is a leading carpet cleaning company based in Vancouver, BC. With a mission to deliver exceptional carpet cleaning services, they have become a trusted name in the industry. Their team of professionals is committed to providing top-quality service, and their dedication to customer satisfaction is at the heart of everything they do. For more information about Knights of Cleaning, please visit their website at https://knightsofcleaning.com/ or call them at (778) 771-3595.
James Minett
Knights of Cleaning
+1 306-581-6975
[email protected]
Visit us on social media:
Facebook
Instagram


Article originally published on www.einpresswire.com as Knights of Cleaning Achieves Remarkable Growth in 2023, Doubling Revenue and Expanding Workforce