300 Girls with SHE Scholarship Students in West Bengal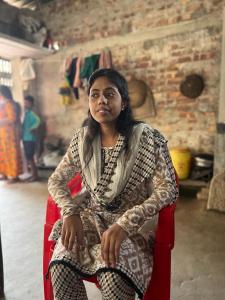 Manisha is now Radiologist
100 SHE Scholarship Students in Karanataka
LOS ANGELES, CA, USA, August 8, 2023/EINPresswire.com/ — Los Angeles, CA – Yoga Gives Back, www. yogagivesback.org, has reached the milestone anniversary of 10 years with its SHE Scholarship for Higher Education project.
SHE was created after the leadership at Yoga Gives Back witnessed the incredible success of a student who was a beneficiary of this scholarship and went on to become a physician. This former recipient of SHE is now Dr. Guruprasad.
Dr. Guruprasad's story is an inspiring one. His mother was the recipient of a Yoga Gives Back micro-loan in Bangalore, India. Dr. Guruprasad was a 15-year-old teenager when Kayoko Mitsumatsu, Founder of Yoga Gives Back, first met him. The nonprofit decided then to support his goals for higher education and continued to do so until he fully completed his medical degrees and training. This was the fulfillment of a lifelong dream for Guruprasad's mother.
Today, the SHE scholarship program is funding 400 students annually with five-year scholarships for higher education in the rural villages of West Bengal and Chamarajanagar, Karnataka, all with the goal to complete their university degrees. These students have no other way to continue their higher education due to the extreme poverty that their families survive in. This scholarship program is their solution. The scholarship recipient youths are grateful for this opportunity and extremely determined to achieve their goals.
"After a full decade of the SHE program, we are grateful and proud to have witnessed more than 200 youths so far who have graduated with Bachelor's Degrees, and are now employed in gratifying work with income that provides amply for themselves and their families. These inspirational young people have become the change makers in their communities and role models for the younger generation," expressed Kayoko Mitsumatsu, founder and executive director of Yoga Gives Back.

Yoga Gives Back is grateful to PURE Yoga Hong Kong, who has supported the SHE initiative for ten years since its inception in 2013, by offering the initial funding for 10 girls to complete their higher education. The following are a few powerful stories of young girls whose lives have been transformed by this opportunity.
Manisha Pramanik was a 12-year-old student in a small village in Keyapukur when she began receiving educational support through Yoga Gives Back and their NGO partner NISHTHA. Manisha completed high school with honors and, with the support of SHE, enrolled in an honors zoology program at the university. Upon successfully completing that degree, Manisha's interests shifted to include medical practices, and she decided to complete her professional education at a medical college. She is currently enjoying a career as an X-ray and USG technologist and is the sole income earner for her family.
Lipika Ghosh was a 14-year-old student from an impoverished family who enjoyed her studies in the 10th standard when she was unenrolled from school by her father. As an auto rickshaw driver, he had great difficulty in financially supporting his family, and as the youngest, and a girl, Lipika was compelled to bear difficult sacrifices for her family. After being removed from her education, Lipika's father arranged a marriage for her against her will. The news of this situation reached NISHTHA, who intervened to stop the child marriage and instead, re-enrolled Lipika back into school with the support of Yoga Give Back's SHE program. She has graduated and is currently working as a private tutor and earning an income that can support her family. Lipika's ultimate goal is to become a schoolteacher.
Shukla Sardar was able to complete her high school education and go on to earn her college degree through the support of Yoga Gives Back's SHE program. Upon graduation from college, Shukla found employment and took care of her family. Shukla is now happily married and progressing toward her goal for a contented life with family. She says, "I cannot express how proud I was when I got a job. It was more than my dreams. I am so thankful to Yoga Gives Back's SHE program which helped my dreams come true!"


It costs an average of $250 to support one disadvantaged youth to continue higher education with Yoga Gives Back's revolutionary SHE Scholarship program.
Learn more by watching a few YGB FILM videos on You Tube that chronicle stories of SHE students:
"From Seedling to Sheltering Tree: Guruprasad's Journey"
Kayoko Mitsumatsu
Yoga Gives Back
+1 310-991-9599
email us here
Visit us on social media:
Facebook
LinkedIn
Instagram
YouTube
TikTok
"From Seedling to Sheltering Tree: Guruprasad's Journey"


Article originally published on www.einpresswire.com as YOGA GIVES BACK'S SHE PROJECT ACHIEVES A DECADE OF SUPPORTING HIGHER EDUCATION