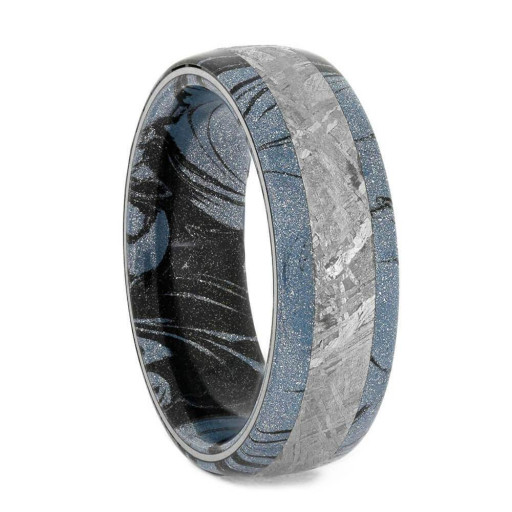 After developing our latest website, we now offer customizable engravings on our new set of Damascus steel men's wedding bands.
Newswire.com
)
An established and well-known online retailer of men's wedding rings, Tayloright LLC, has announced the expansion of the retail services they provide to the general public. They announced publicly that they now etch unique engravings on men's wedding rings produced with Damascus steel for customers who demand the service.
Providing name or object inscriptions on rings was long overdue, considering that they have been selling men's wedding bands for the past decade. They make custom-made inscriptions on Damascus steel wedding rings made from durable Damascus steel.
The finish that Tayloright LLC applies on their Damascus steel men's wedding rings makes it possible for them to inscribe customizable engravings on the ring.
Tayloright LLC said that the bespoke engravings on the Damascus steel rings entail writing names, inscribing symbols, signs, or anything else on the wedding band. Because they only offer this service on demand, they usually start the engraving process only when a customer makes an order and submits the details of what they want to etch on the ring.
They launched this new service after months of requests from customers who wanted something out of the ordinary for their wedding rings. They set the ball rolling for the service after a series of trials and tests to ensure that they only provide the best to their customers who will demand the services subsequently.
Listed below are points that highlight the details of the custom-made Damascus steel wedding rings from Tayloright LLC:
The main production material is Damascus steel (a very durable metal made from two different types of stainless steel).
The ring contains nickel.
The Damascus steel wedding rings are customizable.
To prevent the Damascus steel rings from corrosion, they should always be dry.
Available in various styles and designs.
"To produce Damascus steel, two distinct types of stainless steel are folded and twisted together. Combining the two metals produces unique patterns that resemble the texture of wood. This wood texture makes it possible for us to etch or inscribe any engravings you provide on your wedding ring when you request a custom-made Damascus steel wedding ring. Damascus steel wedding bands are unique, customizable, and last long - provided you do not allow the ring to come in contact with water," said Ron Johnson, co-founder of Tayloright LLC.
After a decade in the business of selling men's wedding bands, it is vital that we expand and increase the products we sell and the services we offer on www.meteoriterings.co. It is long overdue for Tayloright LLC to provide this innovative service of adding personalized engravings to men's wedding rings.
Contact Information:
Taylor Johnson
CEO
[email protected]
435-275-9057
Press Release Service by
Newswire.com
Original Source:
Tayloright LLC Launches New Sets of Customizable Damascus Steel Wedding Rings