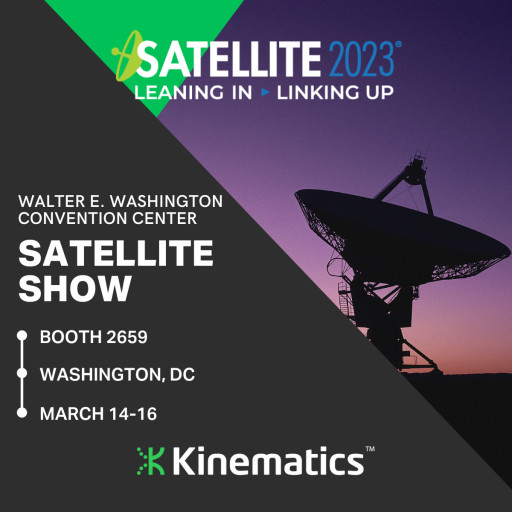 PHOENIX, March 6, 2023 (Newswire.com) - Kinematics, www.gokinematics.com, a world leader in intelligent motion control, is excited to share their new complete satellite positioning solution, Kinematics KX-6™ Positioner, at the 2023 Satellite Show at the Walter E. Washington Convention Center in Washington D.C. on March 13-16. The Kinematics KX-6™, the first in our integrated series, combines an X-Y drive, custom-engineered motors, and encoders optimized for 2.4-meter class ground stations. The Kinematics KX-6 is developed for the high slewing rates, retrace, and accuracy needed to track today's LEO constellations. This positioner eliminates the risky, time-consuming, and expensive work of making in-house components. The KX-6™ is a uniquely engineered and ready-to-integrate product for ground stations.
"We are very excited to be creating critical, enabling technologies to support and address the growing challenges of tracking LEO mega-constellations," says VP of Product Management and Corporate Development Robin Wessel.
Utilizing their strength in supplying high-quality and high-volume production, Kinematics is filling a gap in the satellite communica0tion industry. Developing the KX-6 Positioner at scale will allow ground station companies to meet demand and cost targets. The ready-to-integrate solution will allow more time and energy in-house on projects so that companies do not need to spend an average of 18 months developing a bespoke X-Y positioner.
"It's exciting for Kinematics to do a product of this nature. This will be a game changer for the satellite industry," says Scott Leach, Product Line Manager. "This product will be the first in a line of ready-to-integrate positioners that antenna manufacturers can buy and integrate into their design. We have leveraged our design and manufacturing expertise to deliver a differentiated product that's commercially developed and aerospace capable."
Kinematics is excited to share the demonstration of the KX-6 X-Y Positioner at the Satellite Show. They will be at booth 2659. Register here to attend.
About Kinematics
Kinematics: Intelligent Motion Control for a Sustainable, Connected Future. For nearly three decades Kinematics has delivered customized, robust solutions to customers with mission-critical applications. With a variety of motion control solutions, there's virtually nothing we can't do to satisfy our customers' needs.
Contact Information:
Courtney Peril
Marketing Communications
[email protected]
623.780.8944
Original Source:
Kinematics Announces New KX-6 X-Y Positioner at Satellite Show 2023