Noteflow's Service Providers Directory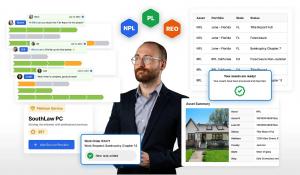 Noteflow's B2B Platform
Revolutionizing the way mortgage servicing professionals, service providers, investors, and asset managers connect and collaborate. Located at www.noteflow.co
OVERLAND PARK, KANSAS, UNITED STATES, June 12, 2023/EINPresswire.com/ — Noteflow Inc proudly launches Noteflow.Co, a groundbreaking platform that transforms the mortgage servicing industry. Noteflow.Co, is available at https://www.noteflow.co/, provides a comprehensive solution for professionals to connect, collaborate, and thrive. It will become the premier destination for industry experts, offering a user-friendly interface and abundant networking opportunities.
With the mortgage industry's rapid growth and evolving regulations, professionals seek a centralized hub to discover talent, service providers, and investors. Noteflow.Co fulfills this need by providing a robust platform for experts to connect, collaborate, and succeed.
David Maland, Chief Marketing Officer of Noteflow Inc., expressed his excitement: "NoteFlow.Co is a transformative platform, empowering mortgage servicing professionals, service providers, investors, and asset managers nationwide. Our vision is to create a vibrant community where industry experts effortlessly find connections, access resources, and foster business growth."
Key Highlights of Noteflow.co:
Robust Marketplace and Directory: Noteflow.Co showcases an extensive directory of mortgage service providers, professionals, and experts. Users can easily find the right match based on specific criteria.
Enhanced Visibility for Professionals: Listing businesses on Noteflow.Co increases exposure, enabling professionals to connect with potential clients, investors, and partners.
Trusted Connections: Noteflow.Co prioritizes trust and credibility, ensuring users connect with reputable experts committed to exceptional services.
Networking and Collaboration: Noteflow. Co fosters a vibrant community for professionals to network, collaborate, and share insights through interactive messaging.
Noteflow.Co transforms the mortgage servicing landscape, empowering professionals and service providers to thrive. Join the vibrant Noteflow.Co, community, and explore endless possibilities in the mortgage servicing industry at https://www.noteflow.co.
David Maland
Noteflow Inc.
+1 913-228-1646
[email protected]
Visit us on social media:
LinkedIn
Article originally published on www.einpresswire.com as A Groundbreaking Online Marketplace and Directory for Mortgage Servicing Professionals