Southwest Region "Women in Aerospace Conference"
Wednesday, April 5, 2023
It is an honor to introduce three dynamic leaders from across the aerospace industry. The panel will embark on a conversation about ways to inspire and impact the next generation of young women who will lead the aerospace industry to new heights in the decades to come. These women are barrier breakers and record setters!
 
Kathy Lueders
Kathryn Lueders serves as the associate administrator of NASA's Space Operations Mission Directorate (SOMD), overseeing the International Space Station (ISS), the Commercial LEO Development Program, Space Communications and Navigation (SCaN), Launch Services Program (LSP), Human Spaceflight Capabilities, and operations of crewed Artemis missions.
Lueders previously served as the first female associate administrator for the Human Exploration and Operations Mission Directorate, managing the agency's full human spaceflight portfolio. 
Before joining NASA Headquarters, Lueders was the manager of the Commercial Crew Program (CCP) at NASA's Kennedy Space Center.  Prior to CCP, Lueders served as the ISS Transportation Integration manager, planning, developing, and implementing key ISS transportation strategies, policies, and procurements with private industry, culminating in the award of two ISS Commercial Resupply Services contracts worth $3.6 billion to private industry that was able to begin providing cargo transportation to the ISS.
Lueders began her NASA career in 1992 at the White Sands Test Facility in New Mexico, where she was the Shuttle Orbital Maneuvering System and Reaction Control Systems Depot manager. 
Lueders holds a bachelor's degree in business administration finance from the University of New Mexico and bachelor's and master's degrees in industrial engineering from New Mexico State University.
Sharon Rossmark
Sharon Rossmark is the Chief Executive Officer of Women and Drones, a global network of women in the emerging aviation industry. The organization spans across 22 countries on six continents.
Sharon is a change leader with diverse industry and functional experience in Fortune 100, privately held, and start-up companies. She is a collaborative business executive who cultivates opportunities with global and domestic organizations. She has a proven career record of leading and building operational performance during dynamic growth, turnaround, acquisition, and changing environments for mature and growing businesses.
Her range of experience includes key roles in board governance, insurance, and financial services. She has held leadership roles as board chair, vice chair, audit committee chair, and governance chair. In addition, her board experience includes serving on aviation, healthcare, and education boards.
Sharon is the co-author of three children's books featuring girls with drones, an international speaker, and a frequently requested panel moderator. She holds a Part 107 Remote Pilot certificate.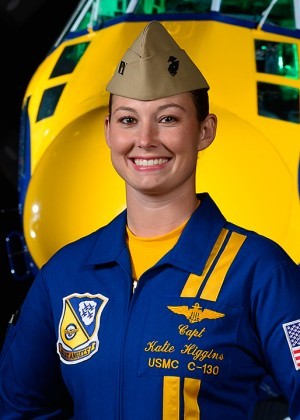 Katie Cook
Katie Cook is from Severna Park, Maryland, and graduated from W.T. Woodson High School in Fairfax, VA in 2004.  She attended the United States Naval Academy, Annapolis, MD and graduated with a Bachelor of Science degree in Political Science in 2008.  Katie continued her education at Georgetown University, Washington, D.C. and graduated with a Masters of Arts in International Security in 2009.
In the summer of that year, Katie reported to The Basic School (TBS) at Marine Corps Base (MCB) Quantico, Virginia. She then reported to Naval Air Station (NAS) Pensacola, Florida, for aviation indoctrination in November 2009. She completed primary flight training in the T-6B Texan II at NAS Whiting Field, Florida, and transferred to Training Squadron 31 (VT-31) at NAS Corpus Christi, Texas, for intermediate and advanced training where she flew the T-44 Pegasus. She received her wings of gold in October 2011.
Katie reported to 2nd Marine Air Wing (MAW) at MCAS Cherry Point, North Carolina, in December 2011. For her first six months, Katie worked at the KC-130J Aircrew Training Unit, where she trained to fly the KC-130J Hercules.  In May of the following year, Katie reported to Marine Aerial Refueling Transport Squadron (VMGR-252), "Otis," to begin training in the KC-130J Harvest Hercules Armament Weapons Kit (HAWK).  While assigned to VMGR-252, Katie deployed to Afghanistan in support of Operation Enduring Freedom, as well as a deployment to Africa with Special Purpose Marine Air-Ground Task Force Crisis Response (SPMAGTF-CR), in support of contingency operations.
Katie joined the U.S. Navy Blue Angels in September 2014 as the first female pilot in the history of the famed demonstration squadron. She served as the Aviation Safety Officer followed by the Officer in Charge of the C-130, affectionately known as "Fat Albert".  While serving as a Blue Angel, Katie was able to provide logistical support as well as fly aerial demonstrations that showcased the pride and professionalism of the United States Navy and Marine Corps.  During her time with the team, she was featured by several national-level media outlets including "Fox and Friends", "CBS This Morning", and "The Today Show".
In February 2017, Katie reported for duty as the Airfield Operations Company Commander with Marine Wing Support Squadron 271 at Marine Corps Auxiliary Landing Field Bogue, North Carolina.  In this billet, Katie and her fellow Marines provided scheduling, fuel, firefighting, and maintenance support for the only expeditionary airfield on the eastern seaboard.
During her time in the fleet, Katie has accumulated more than 1,400 flight hours, including 400 in combat. She has flown missions in Afghanistan, Bahrain, Canada, Djibouti, England, France, Greece, Ireland, Italy, Kuwait, South Sudan, Spain, and Uganda. Most notably, she assisted in the evacuation of the US Embassy in South Sudan in January 2014. Her decorations include two Meritorious Service Medals, five Air Medals, the Navy and Marine Corps Achievement Medal and various personal and unit awards.  In August 2019, Katie transitioned to the Marine Corps Reserve and currently works as a Senior Director of Operational Excellence for Global Public Sector at Salesforce.  Katie is married to another Blue Angel alumni, former Major Dusty Cook, USMC.  They have three children.